Go to mirror an instance of the board and attach it.



Use the sub-object and collapse vertex by vertex, it's important to use "ignore back facing" for this operation, when you have welded all the vertex (this is hard work, to make easy I have assigned a Keyboard hotkey for the command collapse) select the centre line of the board , by the segment sub object and click invisible on the surface propriety.




Apply a map(look at the maps enclosed at the end of the article),use the double side map.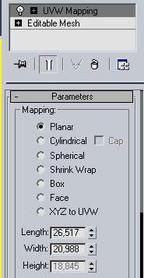 Merge the board at the snowboarder: