I was missing some sort of tension in the image. I had to change expression for the left guy to a kind that showed that he wants to kill the right one. For this I lowered his eyebrows, shut his eyes a bit and made him scream with anger.

To get depth and make sure that the hands of the characters weren't colliding with the white areas in the mountains, the background was blurred and moved to a better position.

The hair on the characters was like Bruce Lee in (picture above) on my first model, this didn't make him look that aggressive. So I remodeled the hair on both guys by using extrude.

As the sky is so blue, I had to have a color that pulled the attention from it. I didn't want to make the left guys pants any other color that black, this would make him appear non-aggressive. So I decided to make the right guy's pants orange, which is the opposite to blue in the color wheel.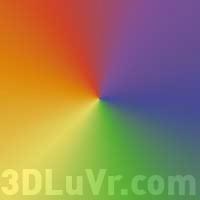 Shaders

When most of the staging and poses were set, I concentrated myself on the guys materials.

I have to learn a lot more about texturing. Nowadays I usually end up modeling what could easily be mapped.
Such as the folds of the pants, they looked rather flat and lifeless - they still do. But after that I had modelled in more folds, they at least looked like some sort of pants.

The skin shader is based on shader from Steven Ståhlberg's workshop, though I changed it a bit. Orange color with some translucence and a bluish specular. I created a bitmap with abdominal muscles and mapped it to the front of each guy.
To make the skin shader blend together with the abdominal map, I made a layer shader with the basic skin shader as the bottom material and blended the sides of the bitmap material with a ramp texture, though I almost got the colors to match.
They were hidden in the lightning process, see further down for layered shader info picture.