Texturing in DeepPaint - The Basics
Added on: Sun Nov 21 2004
Page: 1 2 3 4 5 6 7 8

Obviously we can use any of the PS features, plug-ins, special brushes, but finaly we should merge the appropriate layers to the properly named (imported) layers as the naming convention is the key, how the DP later going to recognize the diffuse-bump-etc layers.








The reference layers of the PSD document (last 5) contains the original textures what we have just imported from DeepPaint. These layers are just for reference purposes, we should paint only onto the "paint" layers.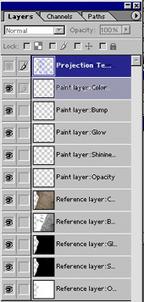 By exporting the PSD document back (clicking on the "Fetch the material from PS" icon in DP ), the "paint layers" going to be merged with the "reference layers" and give us one texture only per channels.



We could have easily solved this problem in DP with the use of the stamp tool, but in many cases the Photoshop tools can handle many tasks lot more professional way, for example: transforming different image parts, and so on.