Because of the complexity involved with optimizing services for individual needs I am also including an excellent roundup/guide written by Black viper in case anyone wants some more in-depth explanation or ideas about what they can/canít disable.

http://www.blkviper.com/WinXP/servicecfg.htm


Finishing the Liposuction

Disabling most of XPís unique ďflairĒ results in near Windows 2000 Ram usage. But this is only the first step. Not only can you restore the original look of 2k but you can also reduce ram/cpu usage. Further utilizing a variety of other utilities will allow you to tweak Windows XP even further, restoring it a very streamlined athletic state. (As far as Microsoft OSís go).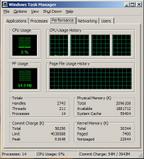 The image shown above is the level of resource usage achieved by using the tips listed here. Your results may vary. The four listed cpuís are showcasing the fact that Windows XP fully supports Hyper threading in a Dual Xeon system, which was one of the primary reasons for writing this article.

Below youíll find a list of other utilities you can use to further tweak Windows XP.

If you have any questions or comments, feel free to post a question in the hardware/technical section of the 3DLuVr forum.

http://www.jv16.org

http://www.microsoft.com/windowsxp/pro/downloads/powertoys.asp

http://www.tweakxp.com/tweakxp

http://www.blkviper.com/WinXP/servicecfg.htm