The last two are pretty easy. First the Startup and Recovery settings let you set whether the system reboots automatically, undergoes a blue screen of death, or emails your admin when a system error/freeze occurs. By default this is set to automatically restart, which is pretty annoying if youíre trying to troubleshoot a problem. I find keeping the event log open and usually allowing for a mini-dump to occur, gives enough information to provide for some troubleshooting assistance, should your cat fall asleep inside the case again.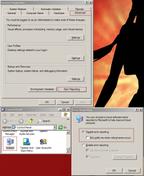 Second is error reporting. As if we want to send MORE personal information to Microsoft. Disable this as quickly as humanly possible.

Services



A computer is never truly idle. Upon booting into XP a large number of background tasks are started which arenít necessary for the systemís functionality. These services can power everything from Internet connect sharing, to watching NTFS file transfers over the network. As expected many of these services are useless to the 3d professional, often taking up valuable resources and memory, which could be used for other thingsÖlike rendering or playing 1942 battlefields.

Which service you can and canít disable is dependent on the individual user needs. Iíve created a list of services Iíve disabled in my Windows XP install, which I didnít find necessary for any of the work I was performing. The services listed in the JPG are the ones I specifically disabled, shown in order as they appear if you use the View-List command while looking at the master services list.