Use the interpolated spline. The reason why you use a interpolates spline is because you want them smooth, and no jagged edges, if you can help it.
We will have some jagged edges because of turning to low poly, though.

Now that you have the 4 reference splines, we can go ahead and make the cross sections by using the command CSEC. This will make cross sections so that we can loft a surface
from its curves. Once you've typed in CSEC, you will have to draw lines across the refrence splines.

(Do not select polyline or interpolated spline buttons while making cross sections.
CSEC will suply the ability to draw lines across the refrences).

Use the Figure 6, below to get a idea of how the cross sections should look like.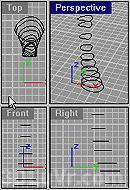 Figure 6
Cross sections


Now you can loft the surface from these cross sections. You will have to choose a lofting type as a message box will pop up and ask you.
In the Figure 7, I have used a normal loft with 10 control points and no simplification.



Figure 7
Lofting type