Now you need to edit points on the leaf so that it isnt totally flat. Type the command showcv into the command bar. Select your surface and press enter. Now all points on the surface will be shown as in below.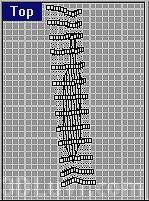 Figure 3
Displayed Points


Now that you have all of the points, we need to edit them and "pull them" to make it more believable looking. Grab and pull the points until they look good to your liking. They should look as if they had low spots and high spots dented, as the one in the picture in right view below.



Figure 4
Indented points



That was the a leaf, now onto the trunk.

For the trunk we will take a new route in Rhino. We want it low poly so we will make it with 8 sides. Remember, this is low polygonal for game use, and such.
So detail is not what we are worrying about at this present momentm textures will be added for detail later. We will use Cross Sections to start the trunk of the tree. This means that you have to draw 4 splines similar to the ones in Figure 5.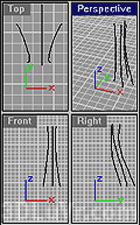 Figure 5
Trunk splines