Procedural Shaders: Magma/Lava Effect
Added on: Mon Nov 27 2000
Page: 1 2 3 4

The reason we've done this is to create a complex mask which we can animate to control how much lava and rock ect. is spread over the sphere. Look below to see what it should look like.



Now go to the last frame of your animation and hit the animate button and change the following settings:

Under electric adjust the phase to 7.0, and under gradient adjust colour #3 to 100% white, and colour position to 1.0 and phase to 2.0. Go out a level and invert the mask after you've turned animate off.

Now it should look something like this on the last frame.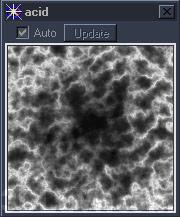 Okay now the mask is created, what we want to do now is make two materials from scratch.One will be an intense lava/magma and the other will be rock.

To create the magma, go to colour #1 and make the diffuse nearly bright red but slightly orange, make the specular 5 and the glose 9, go down to specular and choose mercury, make the first colour black and the second white. make sure transparency is black, and no transparency is turned on, as well as interpolate is ticked as well as reverse gradient.
Also make the curveness 25.0 under mercury configuration, and regularity is 2.2. check that the layers are on double and layer one is blotchy with a 20.0 seed. Layer 2 is curvy, with a 20.0 seed.