This is what you should see now, hope this bit was clear. I circled those other vertex point to show how close they are...this has created the ridge on the bonnet! Don't believe me huh??




Ta da! Took the roof off again!


You may want to weld your headlight patch to bonnet and bumper, give it a different material id. I always weld all pieces together then detach them later so they have a close fit.




Do not weld this area leave loose, you need that cut line there. Save your file.

How about the rest?

Save>Reset and start some cool wheels! Huge rims! Don't get too detailed otherwise you will have probs later when you copy 3 more wheels and the car's panels get extruded>meshsmoothed. The whole thing gets heavier on the processing. It's no fun being locked out of your file!




Temporary wheels, permanent side window and temporary spoiler at the back.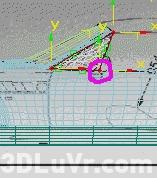 The vertex in pink needs to weld onto the door but right now there is no vertex point nearby so subdivide the top edge of the door and one will be created.


File:
bmwfront.zip (20kb Max) Enjoy!


I hope most of this has been helpful to you.