That said, its now up to you to create you own palette :-) Below is the palette I've used through out this lesson:


Step 2: Sketch

Save the reference image to your computer and open it in Painter. Create a new image with the same resolution as the reference image (327*390). Have both images open at the same time, next to each other, and try to roughly sketch the outline of the woman. Don't bother with anything else than with the proportions.



A very quick sketch


After the first quick sketch go to the Canvas menu choose Re-size and type in 1000*1193 pixels. At this resolution you can finish the sketch.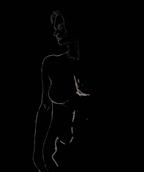 Left: More details added, right: final sketch