Reaktor: Intro to basic rigid body dynamics
Added on: Sat Dec 14 2002
Page: 1 2 3 4

The reason I set up animation at -8 and then frame 0 was that if you look up the top of reaktor I've set up the dynamics to be from frame 0 to frame 100 (default settings) so it continues the animation from the keyframe on frame 0 as the intial velocity. (that too might be a bit confusing, but try and play with making a ball roll or a cube be thrown ect. you'll get the idea).

Lastly under advanced rollout adjust the 'collision' tolerance level to .5. This is essentially how close everything gets before it clips. By default the distance is fairly big so the objects don't actually touch, this lets the objects get closer before they actually collide.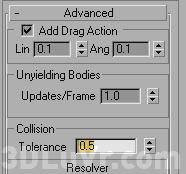 If you've done everything right (and I've written the steps correctly) if you click on the 'perform simulation' button listed under animation & export where the frame 0-100 sliders were listed. If you want, click on the 'update viewports' check box to allow you to see what's happening in the viewports as the animation is being calculated.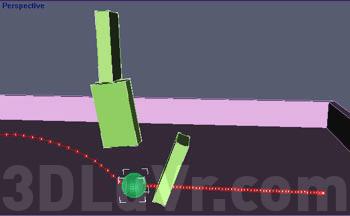 You should now get the ball being thrown across the room, hitting the boxes knocking them over. All of the objects and the ground are all clipping (colliding) with eachother.