We are now going to revolve the last line you made. You can use the same steps as the last time we revolved. It would be a good idea to save again.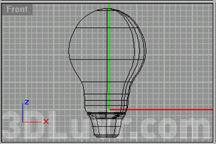 Figure 4
Revolved cup splines


Next, we need to make a helix with about 7 turns. Do this by using the \"Helix\" Command or by going into the curves menu. You may need to point edit the helix, so go ahead and do that if necessary.



Figure 5
Helix curve


You now need to pipe the helix by using the "Pipe" command. Place the piped object over the base of the lightbulb as seen in the Figure 6.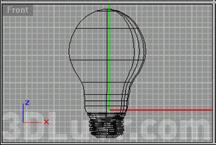 Figure 6
Piped object