Concept Sketches

Concept sketches can sometimes mean the difference between a quality model and a poorly built one. With concept sketches you will have a sense of what you want, and having it planned out will get the project done much faster.
I would recommend drawing a concept sketch for any project that you do, it will help you get it done faster as well as better.
Figure.1 shows a rough concept sketch, which is slightly different than the final product.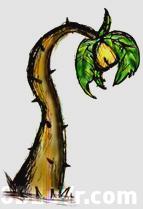 Figure.1
Concept Sketch



Modeling in Rhinoceros

As you may have read Rhinoceros 3D 1.0 encorporates some of the best and recent nurbs modeling tools that are on the market. With this comes a masterfull Nurbs application that you can use to create absolutely anything.
It being a powerfull modeler, Rhinoceros has major limitations in rendering and surfacing, as well as no capabilities for animation. For this it would be most beneficial to use another application for surfacing, rendering and animation.

Modeling in Rhinoceros can be quite simple and with the right learning tools.
Rhino's interface is also interchangeable and it may benefit you to download a new and more colorfull interface, if you dont already have one. You can download some custom workspaces at the links section of www.rhino3d.com

The Trunk/Stem

There are many ways to make almost every object known to man.
With this particular object we will look specifically at the loft tools.
The loft tools can be used in different ways and forms, so lets take a look at how to model a tree-ish flower with the fictional name of Weeping Ame.

To start the model we will draw a set of 4 profile splines to model the stem, or trunk.
The type of splines that we will use on this project will be interpolated curves.
We will use interpolated curves because they are smooth and flowing. The second style of curve, the polyline, is not flowing and has jagged edges.