Creating Animated Grass
Added on: Mon Mar 18 2002
Page: 1 2 3 4 5

Add a bend modifier to the shape and set it to Angle: "60.0", Direction: "90.0" Bend Axis: "Y" Also alter the centre position in the sub-object mode so that the lower part of the shaft is parallel to the viewport grid. You can use different values if you like, it's up to you.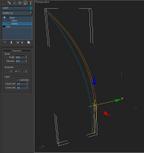 Put an editmesh on top, just to generate the mesh and add a UVW modifier to it. Try to align the UVW sub-object to the overall shape of the shaft to avoid the texture getting stretched.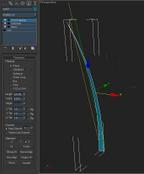 Clone the mesh and hide the copy. This is just if you want to change something and don't want to redo it all again from the start.

Ok now add a material to it, I'm not going to go into any depth with that, just a simple two sided, green coloured material will do the trick for now.