Sedley Brown: The hero cartoon characters were modelled in 3D studio Max and the toys (a dragon, Barbie doll, Baby Born, and a Lego racer) were modelled in Alias-Maya. We have used special cartoon and fur plug-ins to achieve the wished look. The final composite was made in After FX from the different passes (beauty, shadow, specular, reflection) we had rendered.


3dluvr: Could you tell us something about your other clients?
Sedley Brown: All clients differ in needs and personality. Due to the brand or identity of a client the actual completion and final product of the piece will always be individual. Our latest client is MTV so for that you need to have young, hip and trendy head on your shoulders. We have also did commercials Jean Patou Perfume. It was important for the stings to show off the beauty, elegance and class of Jean Patou Perfume. By creating a photo-realistic 3D model we were able to animate the bottle and the text. Using specific lighting techniques, reflection maps and refraction methods has helped to re-produced and capture their high aesthetic value.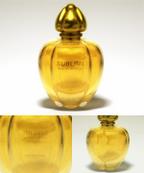 There is a big selection of our recent commercials on the following website: www.fx2nv.com